---
New scope for BDB Server
As part of expanding the scope of activities that can be supported in BDB Server, databases now supports both feature and coverage data management. The object and attribute model is now fully exposed to the user and can be customized to include any point, line or polygon feature types as required by the customer. This allows the role of BDB Server within an organization to expand beyond the management of bathymetric DEMs and into new areas of data management for features (such as for wrecks or administrative boundaries) and coverages (such as backscatter mosaics or Lidar point clouds). New feature portrayal options allow for styling that can be tailored for use of the system in different domains such as charting, oil and gas exploration and port and waterway management.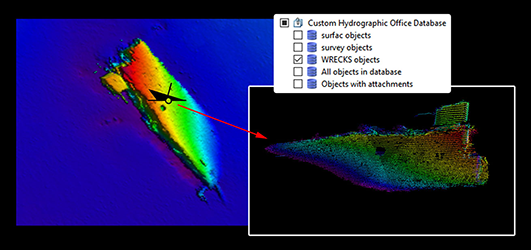 ---
Subset Editor data filtering
Interacting with the data that you want to in Subset Editor has never been easier. There are new geometry and attribute-based filters available that limit the data loaded into Subset Editor, allowing very quick isolation of points of interest in a specific area. The filters can be toggled independently, allowing quick access to points for cleaning or classification.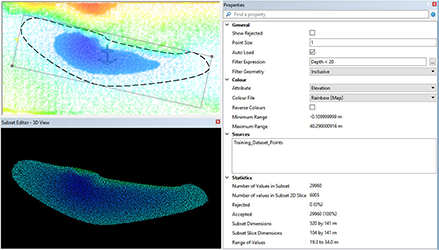 ---
Flexible interface for organizing and interacting with data
To support the changing needs of the modern hydrographic office, CARIS is pleased to provide a redesigned application interface that gives users new tools for managing and deriving information and products from diverse sources of data. With expanded access to GIS formats such as GeoPackage, services such as Web Feature Services, and direct connections to databases such as PostgreSQL, new possibilities emerge for integrating and expanding the use of CARIS applications within an organization.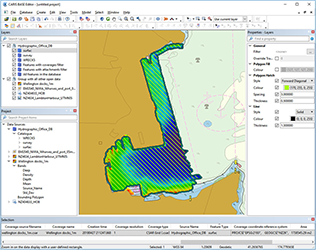 The new application interface provides a consistent user experience when connecting to different data sources, filtering, grouping, setting up display properties and portrayal instructions.
Navigation controls
BDB is an effective platform for exploring geospatial data. New navigation options have been added to make interacting with data easier and more intuitive including a new Pan navigation mode and the addition of the 3D View Controls Types in the toolbar. The user can set the preferred navigation modes and transition seamlessly between the 2D and 3D Views.
---
Expanded Python API
A new Python API module has been added to support interacting with vector data in a wide variety of formats New capability has also been added to the coverage and BDB Server modules, to allow scripting a wider variety of workflows, with goals of simplicity, usability, and versatility.
For example, a Python scripts can now be used to automatically populate vector feature attributes whenever a feature is created, or when a feature is edited, or when an associated coverage is uploaded to the database. A very simple example is to automatically populate the Recording date attribute when a feature is created, which can be accomplished with just a few lines of code
import datetime
def feature_created(newFeature):
newFeature.attributes['RECDAT'] = datetime.datetime.now().strftime("%Y%m%d")
Process Designer
Process Designer has several usability updates to make it easier to design and validate a processing workflow. These updates include applying a modern design which makes it easier and more intuitive to interact with the application and design a Process Model
It is now possible to include a Process Model inside another Process Model using File > Insert Model. This makes it easier to manage complex Process Designer models by defining common capability once and re-using it multiple times. In the example below, a Process Model for creating a bMIO has been created from the Add Smoothed Band process and three existing models, which are clearly identified by their teal colour.

Validation has been built into the Process Designer, making it clear to a user if they have not defined a required parameter or connection. In the example below, the process is showing that it requires a connection for the "Coverage" input.
---