Shallow Survey, first established in 1999, is an international conference which focuses on coastal zone survey techniques. Although the conference covers various topics, considerable focus is placed on examination of the Common Dataset (CDS).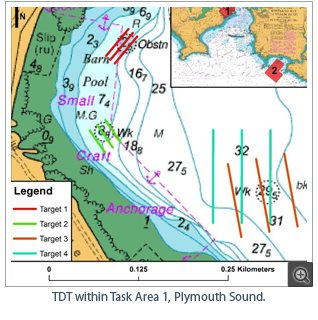 The CDS allows shallow water survey manufacturers the opportunity to have their equipment tested in a controlled setting, against that of their competitors. The overall goal of the CDS is to create an unbiased comparison study for those in the hydrographic community to use in evaluating the functionalities of the latest survey technologies currently on the market.
In his thesis, The Object Detection Capabilities of the Bathymetry Systems Utilized for the 2015 Common Dataset, Luke Elliott, Hydrographic Surveyor, explores a new element of this year's CDS, the Target Detection Task (TDT). Building upon the 'Shallow Survey 2005 Common Datasets Comparisons' (Talbot, 2006), he provides an analysis of nine datasets provided by Edgetech, Kongsberg, Teledyne Reson, and WAASP.
Raw data for the study was acquired during summer 2014 and spring 2015 in Plymouth, UK and was processed using CARIS HIPS and SIPS™ software.
To read Luke Elliott's full paper, click HERE
Connect with Luke via LinkedIn: https://uk.linkedin.com/in/lse89