For the 2015 installment of the Lake Survey project, CARIS was pleased to join forces with Fugro Survey BV to organize a practical survey week for third year students from the Maritime Institute Willem Barentsz (MIWB). This year the location chosen to run the project was the Vlietland in Leidschendam, in the Netherlands. The goal of the week was to take students through the entire surveying process from survey platform mobilization to product generation.
Prior to becoming a lake, Vlietland used to be a polder (a tract of low land which has been reclaimed from the sea or other body of water and is protected by dikes). The formation of the lake began in 1969 when sand was excavated for use in civil engineering projects. Due to the nature of the lake's formation it displayed some interesting bottom features. For example, the bottom varies significantly with depths up to thirty-seven metres. With 18 students involved in the survey it was a much larger group than previous years. The students were split into five groups and experienced boatwork, positioning, processing and cartographic aspects. The survey boat, which was moored in the Vlietland marina, was the Fugro Calibrator. Shore side facilities in the lake area were utilized to accommodate the computers and equipment used during the project.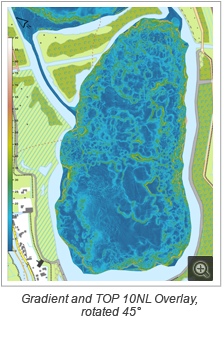 Data was collected using an R2Sonic 2022 multibeam and positioning was via Fugro Starfix, CARIS HIPS and SIPS was used to process the bathymetric data and BASE Editor for surface analysis and cartographic work.
During the course of the survey the group was able to identify several wrecks as well as a pipeline along the bottom of the lake.
The Lake Survey project allowed students to experience all of the different steps in a survey project. The complete dataset will be presented to the owner of the Vlietland Marina and the District Water Control Board Rijnland.