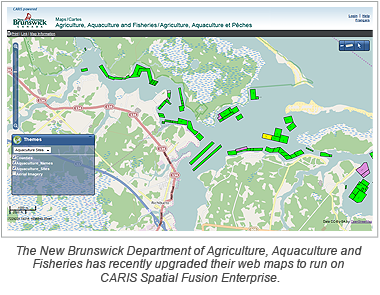 The Department of Agriculture, Aquaculture and Fisheries in New Brunswick, Canada has recently upgraded their web maps to run on CARIS Spatial Fusion Enterprise 5.8. This deployment of Spatial Fusion Enterprise includes a lightweight, easily navigable map client with a bilingual English-French interface and displays various map layers using Open Geospatial Consortium (OGC) standards and OpenStreetMap.
In New Brunswick, agriculture and aquaculture are key aspects of the provincial economy and are important economic contributors in rural and coastal communities. This updated mapping service aims to keep farmers informed of available sites in their region and to help manage their resources effectively.
The Agricultural Resource Management System (ARMS) is a GIS tool to enable farmers to better identify their fields and livestock production facilities for their resource management planning, developing or updating their Environmental Farm Plan, food traceability, and animal health purposes. Farmers will be able to zoom, roam and manipulate maps containing pertinent geographic data for their businesses.
The Marine Aquaculture Site Mapping Program (MASMP) displays maps of all New Brunswick Crown Land marine aquaculture sites as well as some site-specific information, such as a site's size, the waterbody where it is located, and whether it is an approved site, a vacant site or a proposed site. Users of the tool will be able to view all marine aquaculture sites situated in tidal waters of New Brunswick.