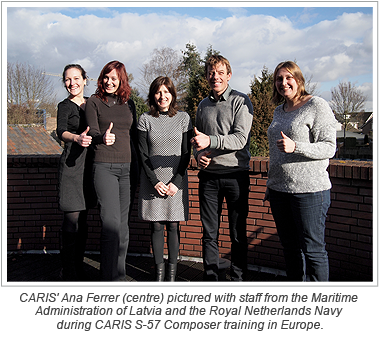 The Maritime Administration of Latvia is the latest hydrographic office to use CARIS S-57 Composer for the production of electronic navigational charts (ENCs). The Maritime Administration of Latvia, which acquired CARIS Bathy DataBASE less than a year ago for managing their survey data, has taken the next step in their chart production operations by training its key production staff on the S-57 Composer workflow.
The Royal Netherlands Navy, who have been using CARIS software since 1986 and was CARIS' first European client, joined the Maritime Administration of Latvia at the CARIS Netherlands office for S-57 Composer training. The Royal Netherlands Navy uses both CARIS desktop and database chart production tools with S-57 Composer mainly being used for specialized product creation.
The collaboration of CARIS' newest and oldest European users for training was an excellent opportunity for the two hydrographic offices to share interests and experiences. Participants spent three days focusing on the workflows and tools for S-57 production. In addition, participants received an introduction to CARIS' work on S-100 functionality in the new S-57 Composer 3.0 release.