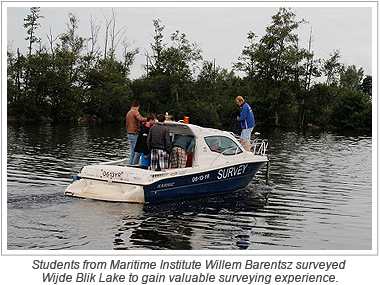 For the second year in a row CARIS collaborated with industry manufacturers to provide third year students from Maritime Institute Willem Barentsz (MIWB), located on the northern island of Terschelling in The Netherlands, with a valuable week-long surveying experience.
The purpose of the survey project was to give students from the ocean technology program at MIWB a chance to go through the entire survey process, including the mobilization of the survey vessel and producing a navigational chart.
After the great success of last year's student survey project of Spiegelplas Lake, CARIS joined forces with Stema Systems and EIVA this year to survey Wijde Blik Lake, located near Amsterdam.
During the 19th century Wijde Blik Lake was dug out for peat extraction, which was used for heating houses. In the 20th century the lake was further dug out to extract sand, which was used for building houses and infrastructure, giving the lake its distinct shape.
Stema Systems supplied the survey vessel for the project, which was equipped with an R2Sonic 2022, in combination with an iXBlue Octans IV and a RTK GNSS system. The ten students who participated in the survey spent much of the first day installing and calibrating the equipment.
EIVA was responsible for the data collection for the project. All systems were interfaced to their NaviPac and Naviscan software packages. During the survey, EIVA engineers took the opportunity to show the students as much as possible, giving them a good understanding of the software's capabilities.
The students spent two days on the lake collecting bathymetric data. The data was then brought back to the main base and was immediately processed by the students with CARIS HIPS and SIPS. The survey findings included dredging marks, sections of sunken boats and a variety of unidentified objects. In addition to processing the data, the students further analyzed the data using BASE Editor and generated a chart using Plot Composer.
The annual CARIS lake survey was deemed a great success. CARIS is already looking forward organizing next year's lake survey with MIWB at a new location.