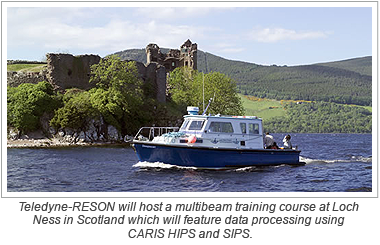 Teledyne-RESON has announced their first comprehensive multibeam training seminar since Teledyne Technologies' acquisition of RESON A/S. The five-day training course, which will consist of both in-depth classroom and practical offshore vessel training, will take place September 30 to October 4, 2013 overlooking the beautiful and mysterious Loch Ness in Scotland.
The training course is aimed at hydrographic surveyors, data processors and those interested in learning more about the theory of multibeam systems. From system integration to data processing, the course offers fully comprehensive training and upon completion will give attendees the confidence to conduct multibeam survey operations.
A session during the training course will focus on data processing using CARIS HIPS and SIPS with an emphasis on the processing workflow from Teledyne-RESON data into HIPS and SIPS. Through this practical Teledyne-RESON and CARIS training session attendees will learn best practices resulting in processing efficiencies.
The cost of the training course will include a five-night stay at the Drumnadrochit Hotel, lunches and an evening social event in and around Loch Ness. As space is limited, it is recommended to register early.
For more information, visit www.teledyne-reson.com/training or alternatively email Pim Kuus at pim.kuus@teledyne-reson.com.