In close cooperation with the Dutch Maritime Institute Willem Barentsz in Terschelling, The Netherlands, CARIS BV worked on a project with a group of third year undergraduates of the Ocean Technology (hydrography) section from the Maritime Institute Willem Barentsz. The project was aimed at gaining valuable field experience from surveying the Spiegel- and Blijkpolderplas in Nederhorst den Berg, close to Amsterdam. Students were exposed to the complete survey process, from mobilization and data collection to the creation of final products.
Kongsberg Maritime Holland BV provided the latest Kongsberg multibeam system, the EM2040 Compact, a sound velocity profile (SVP) probe, a motion reference unit, as well as engineering assistance in mobilizing the system.

Deep BV, a hydrography and geophysics company from Amsterdam, provided their survey vessel, Jumbo, and the positioning equipment. Deep BV has a history of performing offshore hydrographic surveys as well as inland, port and coastline surveys. Deep focuses on employing well-trained and experienced personnel, deploying high-quality equipment on board special-purpose vessels.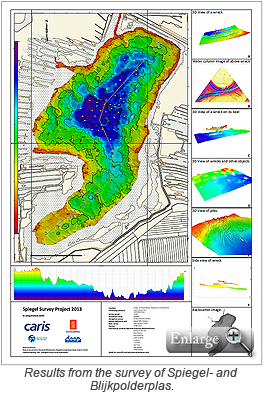 The Spiegel- and Blijkpolderplas was chosen as it had never been surveyed with multibeam technology before. The lake is owned by Natuurmonumenten, the Dutch society for nature conservation, and is mostly used for recreational purposes. In the 18th century the lake was used for peat extraction and in the last century as a sand pit, which resulted in a lake with both very shallow areas as well as relative deep features, up to 47 metres, making it an interesting hydrographic survey object. It also offered an ideal shore location in Nederhorst den Berg where there was housing available for post processing the data by the students, as well as overnight accommodation for the survey camp.
After a day of installing and calibrating the system, the students spent two days surveying the lake. The following two days, they worked on processing the survey data which included multibeam bathymetry, backscatter and water column data using the CARIS Ping-to-Chart software suite, consisting of HIPS and SIPS, BASE Editor, S-57 Composer and CARIS Plot Composer. During the process various objects, including wrecks of small craft vessels, a caravan, cars, foundation piles and dredgeholes were identified.
Overall, this project was a great success as it showed how various partners can work together to show students the complete survey process with state-of-the-art equipment and software to produce products that are comparable with what is common in the hydrographic industry.