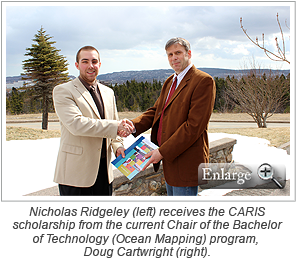 Congratulations go out to Nicholas Ridgeley of the Marine Institute of Memorial University of Newfoundland and Labrador who is the inaugural winner of the CARIS Scholarship for the 2012/2013 academic year.
Nicholas was recently presented the CARIS Scholarship by Doug Cartwright, who is the current Chair of the Bachelor of Technology (Ocean Mapping) program, at the Marine Institute's scholarship ceremony. Nicholas is from the Town of Conception Bay South, Newfoundland and is in his second year of the Bachelor of Technology (Ocean Mapping) program at the Marine Institute. Nicholas is a well-rounded, outgoing and hard-working individual who has demonstrated a keen interest and understanding in CARIS technology and is a worthy recipient of this scholarship.
The Marine Institute's Bachelor of Technology (Ocean Mapping), is a joint Diploma/Degree that aims to produce outstanding graduates with solid technical skills to collect, manage, analyze and disseminate ocean data. Through the program students learn how to delve deep into the ocean to examine the ocean surface, water column, seabed and subsurface. Students are trained in industry-standard marine survey equipment, optical and acoustic remote sensing, oceanographic instrumentation and geographic information systems.
CARIS and the Marine Institute's Ocean Mapping program have built a strong partnership over the years. Through this partnership, the program has become much stronger and more relevant by allowing students the opportunity to utilize the latest CARIS software and receive excellent technical and educational support to ensure that the students learning experience is as real world as possible. The CARIS Scholarship is awarded annually to a second year student of the Ocean Mapping program who demonstrates a keen interest in CARIS technology and is excelling in their studies.