JAN 31, 2020
Introducing CARIS Mira AI
The Teledyne CARIS team is committed to leveraging the latest technology for our customers with the creation of the CARIS Mira AI platform.
CARIS Mira AI is a new cloud-based platform to host our current and future AI solutions. Backed by Amazon Web Services (AWS), offering a robust, scalable cloud platform means no additional desktop hardware is required to move users into the future of processing.
With these evolving technologies, our AWS-certified team is focused on the safety and security of your data while it is in our care: all data directed to the CARIS Mira AI platform is anonymized, randomized and encrypted before transmission. For additional security, no data remains stored on the cloud following the AI classification process.
AI technologies and cloud services are the new force multiplier to reduce Ping-to-Chart times. Let CARIS future-proof your processing pipeline.
Try It for Yourself
For current HIPS and SIPS or CARIS Onboard users, unleash the power of AI right now by signing up for your free 30-day trial. Once activated, provide your account credentials in HIPS 11.3+ or CARIS Onboard 2.3+ to immediately save time in your workflow.
Sonar Noise Classifier
We invite you to bring the noise with the first CARIS Mira AI offering, the Sonar Noise Classifier!
CARIS seeks to significantly reduce the need for manual cleaning and move your data swiftly from acquisition to review. The Sonar Noise Classifier automatically identifies the vast majority of sonar noise, resulting in a reduction of manual cleaning effort by a factor of up to 10× at an accuracy of 95%.
The Sonar Noise Classifier is trained to identify a variety of noise patterns from acoustic sensors. The algorithm assigns confidence values​ for all soundings on a scale of 0 to 100% with 100% indicating the classifier's highest confidence that the sounding is noise. Soundings can be rejected while running the Sonar Noise Classifier by setting your confidence threshold value. Subset editor can be used to review noise classification values by coloring by Confidence and editing the threshold for sounding rejection. Allow us to help you tackle your data backlog save your personnel for the tasks a machine cannot do.
Users can choose to purchase access to the Sonar Noise Classifier service on a yearly, or month by month subscription basis for a customized software solution to meet processing needs. CARIS invites you to try it for yourself with a 30-day free trial.
For more information on the Sonar Noise Classifier, check out the Suggested Reading section on the HIPS and SIPS Product page.
Tools Window
A new use for the existing Process Designer Tools window came about during the 2019 CARIS Hackathon. Using a clever twist on a current procedure, we can help our users move quickly from task to task after porting the searchable Tools list into the main application. Adding the Tools window to your display gives you direct access to a list of all available HIPS and SIPS processes. Simply select a tool from the window or begin typing in the search field to plan your next move. Double click on the process name and you can immediately configure your options.
S-100 ENC Support
Users can now open S-101 ENC files for use as background data in HIPS and SIPS. When opening the S-100 or H20 files, updates in the same directory as the main file are now also loaded and applied. Teledyne CARIS is proud to be leading the industry with our S-100 support in our full production suite.
---
AUG 08, 2019
SIPS Backscatter
CARIS has been advancing the SIPS backscatter engine to make creating artifact-free and robust backscatter products a simple and autonomous process. Following the release of a new multi-mode beam pattern in HIPS and SIPS 11.1, we are pleased to release a new backscatter gridding engine in HIPS and SIPS 11.2. The new engine implements a weighted moving average (WMA) gridding technique which better handles the geometry of multi-sector systems, prevents over-interpolation of data, and allows smoothing the mosaic by adjusting the radius of influence for each cell. Along with the WMA gridding engine, an industry-first area-based AVG correction is also introduced.
Traditional AVG corrections are applied line-by-line with a rolling filter, causing different results to be applied to neighboring lines, which introduces artifacts when the type of sediment changes across-track. As a result, line-based approaches require cosmetic filters to blend the differences to give the appearance of an artifact-free mosaic. In the SIPS backscatter engine, CARIS has implemented an area-based AVG correction which uses any overlapping information to apply an area-based correction computed purely on the physics of seabed acoustic reflectivity. The new area-based AVG correction allows high quality backscatter mosaics to be produced by running a single process.
Expanding Extents
The new extents widget allows the user to set fixed extents to clip data to a specific area, or use automatic extents to dynamically adapt with the incoming data.With the increasing use of multiple platforms on a single survey, it is becoming common to bring multiple datasets together into a single project. To support this workflow, the CSAR format has been updated to allow the extents to automatically expand when new data is added to the coverage. This functionality allows a single surface to be used and maintained as new data from different locations and sources are brought together in the project. Note: If a coverage is created with fixed extents, the CSAR file is fully backwards compatible. However, if you need to use an expanding-extents CSAR in previous versions of CARIS software you can right click→ 'Save As' on the coverage to create a fixed extent copy once all data has been added to the coverage.
Time-dependent Transformation
HIPS and SIPS now supports time-dependent transformations. These coordinate reference system (CRS) transformations have an epoch component that allows for more precise positioning of data.
---
MAY 07, 2019
Additional Support for Drag and Drop Processing
With HIPS and SIPS version 11.1.5, you can now process HSX data by simply dragging and dropping the files onto the Application. This new workflow also allows you to fully customize the processing applied to your data.
---
JAN 23, 2019
Drag and Drop Processing
Following on the introduction of Drag and Drop processing in HIPS and SIPS 11.0, HIPS and SIPS 11.1 now offers the ability to completely customize the workflow applied when sonar files are dropped onto the application. With the ability to customize a separate workflow for each sonar format, you can easily automate your organization's specific workflow to be run through the HIPS Drag and Drop functionality. Through the Options dialogue you can configure HIPS file creation, Import, Georeference Bathymetry and surface generation.
SIPS Backscatter
Understanding the increasing importance of quality backscatter products to our users, CARIS has been working to advance the backscatter processing capabilities of the SIPS Backscatter engine, while maintaining a fully autonomous approach. During most surveys, the focus is on collecting quality depth information using multi-sector sonars with roll pitch and yaw stabilization to ensure consistent coverage, and adjusting settings such as pulse length to ensure the best range and resolution are being achieved. However, these dynamic capabilities in real-time survey can be problematic when processing the backscatter intensity into consistent, usable products.
The Beam Pattern Estimation process in HIPS and SIPS 11.1 for SIPS Backscatter has been enhanced to automatically handle dynamic steered sectors and changes in pulse length / waveform throughout a survey by creating a unique beam pattern for each mode and sector of a multi-sector system. This enhanced technique produces a consistent backscatter image, regardless of the dynamic settings during survey.
Stay tuned as we continue to work throughout the year on introducing further improvements to the SIPS Backscatter Engine.
New Licensing Technology
HIPS and SIPS 11.1 incorporates new licensing technology which will bring several benefits to our end users. Please note that the new license technology is not compatible with previous versions of the software, and your existing license configuration is still required for those versions. Contact Teledyne CARIS customer support to receive your new license.
This upgraded licensing is softkey based, so no physical dongles are required; a license Entitlement will be created for software activation. This presents several benefits:
For all users:

Convenient and easy activation (online or offline)
No separate licensing tool
Faster software purchase and setup
The elimination of physical hardware removes the possibility of damage or loss
For current users in a network license environment, a new license manager is available:


Server can be hosted from any computer on the network
Convenient and easy server activation
Improved license usage transparency: easy to track which licenses are in use, and who is using them
New "Commute" function allows user to seamlessly check-out a license from the server for offline use, without needing to switch to a hardware dongle
For users traditionally sharing a USB dongle among multiple computers, we recommend that they switch to a network license environment and leverage the "commute" functionality to distribute licenses, including the new check out / check in option for offsite use. This avoids the risks or delays involved with shipping dongles to vessels or remote employees, while keeping control where the licenses are used.
If users prefer to stay on the local license environment, the entitlement can be deactivated on one computer and transferred to another computer if needed. Users will need to contact Teledyne CARIS customer services to get assistance in this process.
For more information about the new licensing technology and how it will affect your organization contact Customer Services, or visit License FAQ.
---
JUN 06, 2018
Getting Started in HIPS and SIPS
For users looking for the simplest way to open and process their data, HIPS and SIPS now supports Drag and Drop for raw sensor files. When you drag and drop files onto the application, the raw data is automatically processed, georeferenced, and a gridded surface is created.
One Step Processing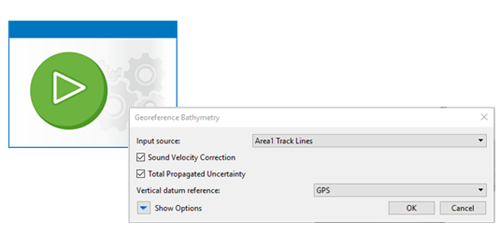 The new Georeference Bathymetry function is a single step which initiates Sound Velocity Correction (SVC), Load Tide, Apply Tide, Merge, and Compute Total Propagated Uncertainty (TPU). The same trusted algorithms are still applied but with the added benefit of being combined into a single process. This creates a more streamlined user experience requiring less interactions, and eliminates the need to concatenate Sound Velocity Profiles into a single file.
Trackline Layers
A new application interface provides a consistent user experience across the CARIS product line when filtering, grouping, and setting up display properties, such as:
Selection and draw order are controlled from a single window
Layer grouping, with the ability to uniformly change display settings for all layers in a group
Improved Properties and Attributes windows
Another new capability is the concept of having Dynamic or Static layers for tracklines. This allows the user to create a rule based layer using any of the trackline attributes. The dynamic trackline layer is a great way to manage your processing workflow, as data can be automatically grouped into layers based on what stage it is at in the process.
Process Designer
Process Designer has several usability updates to make it easier to design and validate a processing workflow. These include applying a modern design which makes it easier and more intuitive to interact with the application and creation of a Process Model.