Fredericton, NB, Canada — Teledyne CARIS™ is pleased to announce the release of Bathy DataBASE™ 5.2, which introduces enhanced tools for validating and creating chart features from lidar surveys as well as new bathymetry compilation techniques.
Update Chart Features with Bathymetric Lidar
This version includes an updated workflow process found in BASE Editor™ designed for performing both quality control and feature set building from lidar data. Bring LAS/LAZ data into the BASE Editor environment to assess quality, adjust classification, and compare against other sources. Identify relevant features in the point data and imagery, and easily model as S-57 features directly in the area-based cleaning tool. Build a DEM using CUBE or other gridding methods and combine with data from other sensors to generate a full picture of the seabed and shoreline.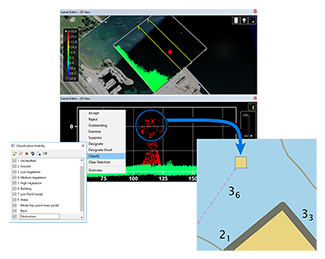 New Automated Techniques for Generalizing Bathymetry
Building on BASE Editor's industry leading toolkit used around the world to compile bathymetry for electronic navigational charts (ENCs), two new surface smoothing techniques have been added along with several workflow improvements.
Surface smoothing tools are run on elevation data to prepare for the automatic generation of smooth contours that are topologically sound, 'chart-ready' and safe for navigation. The new surface smoothing techniques presented in BASE Editor 5.2 are well suited for use in production of high-resolution bathymetric ENC (bENC) overlays where a reduction in contour complexity must be balanced with minimal narrowing of the channel.
To learn more about this release and find up-to-date information on other products, please visit the What's New section of the Teledyne CARIS website.
About Teledyne CARIS
For over 35 years, Teledyne CARIS has been the leading developer of marine mapping software. We offer a highly effective solution for near real-time processing, robust quality control of sonar data, and the creation and distribution of maps, charts, and digital datasets.
For more information, visit www.teledynecaris.com.
About Teledyne Imaging
Teledyne CARIS is a company aligned under the Teledyne Imaging umbrella. Teledyne Imaging is a group of leading-edge technology companies aligned within the Teledyne brand. With unrivalled expertise across the electromagnetic spectrum and decades of experience, the group offers world-leading capabilities in sensing, signal generation and processing. The collective delivers innovative solutions to aerospace, defense, geospatial, machine and industrial vision, medical and life sciences, semiconductors and MEMs.
For more information, visit www.teledyneimaging.com.
###
For more information, contact:
Kim Holland
Media Relations and Content Marketing Specialist
+1 (506) 458 8533
kim.holland@teledyne.com