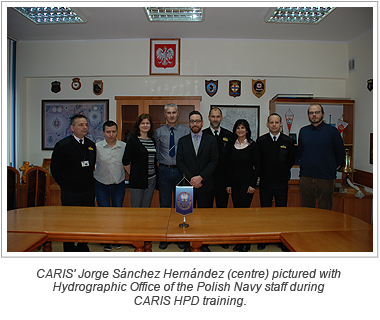 The Hydrographic Office of the Polish Navy (HOPN) is responsible for navigation, hydrography, oceanography and meteorology of Polish waters and areas of operational significance for the Polish Navy. All surveys, charts and publications produced by HOPN meet International Hydrographic Organization (IHO) standards and recommendations.
HOPN has been using CARIS desktop applications for electronic navigational chart (ENC) and paper chart production for over 15 years and is now making the move to a database driven production solution with CARIS HPD. HOPN has in recent years gained experience with CARIS' database solutions when implementing CARIS Bathy DataBASE for the management of their bathymetric data. HPD will enable HOPN to update product-specific features and make customizations while maintaining the source data, providing efficiencies and ensuring improved standards of consistency.
CARIS' Peter Schwarzberg, Marine Solutions Manager who was a part of the initial implementation and training on CARIS software with HOPN remembers the relationship quite vividly. "I still remember performing HOPN's initial installation, setup and training sessions when they acquired their first CARIS licenses all those years ago," he said. "I had only recently joined CARIS and for me this was a fantastic opportunity to spend time with the software and the knowledgeable and friendly staff at HOPN. It has been great following the hydrographic office over all these years and it's fantastic to see how they have evolved."
A series of visits by CARIS consultants will take place over the first quarter of the year for training and consulting to aid in implementing HPD fully into the HOPN chart production workflow.